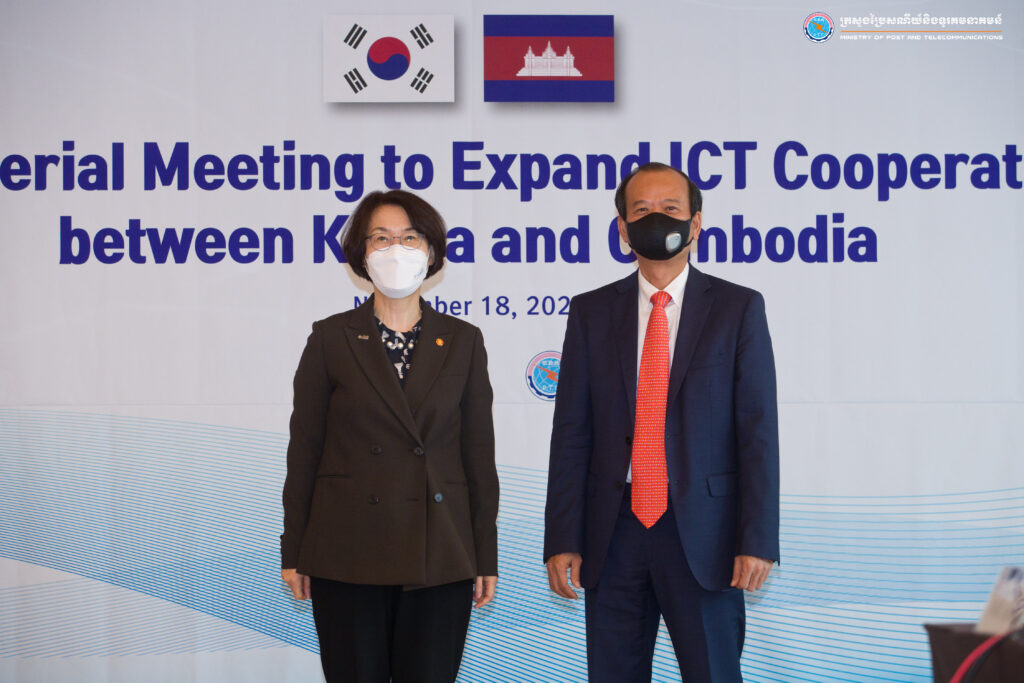 At the invitation of Her Excellency Lim Hyesook, Minister of Science and ICT of the Republic of Korea, His Excellency Chea Vandeth, Minister of Post and Telecommunications, led a delegation to pay an official visit to the Republic of Korea on 15-20 November 2021 to strengthen cooperation on the ICT sector between the two countries.
During the visit, Minister Chea Vandeth and Minister Lim Hyesook held discussions on a number of key topics, including digital technology development, 5G, cloud technology, AI, and data analytics, to promote and expedite an effective digital transformation.
The delegation also met with His Excellency Moon Yong-Sik, President of the National Information Society Agency, to discuss digital government cooperation between the two institutions, particularly on the sharing of best practices in implementing digital government policy, digital government cooperation center, capacity building on cloud technology, and development of digital technology systems.
In addition, the delegation paid a visit to the National Information Resources Service and the PaaS-TA Open Cloud Platform Center to learn about the development and management of data centers using open cloud platforms. The delegation learned about the data interoperability between various ministries and institutions, whose systems 15 years ago were siloed, leading to high costs and minimal protection. Moreover, the delegation met with representatives of Naver and Samsung SDS to discuss data storage at data centers, data analytics, data protection, and capacity building.
The delegation also paid an official visit to the Korea Educational Broadcasting System to promote the successful implementation of the "Establishment and Operation of Educational Broadcasting Cambodia 2021-2022" program under the official development assistance project from the Republic of Korea.