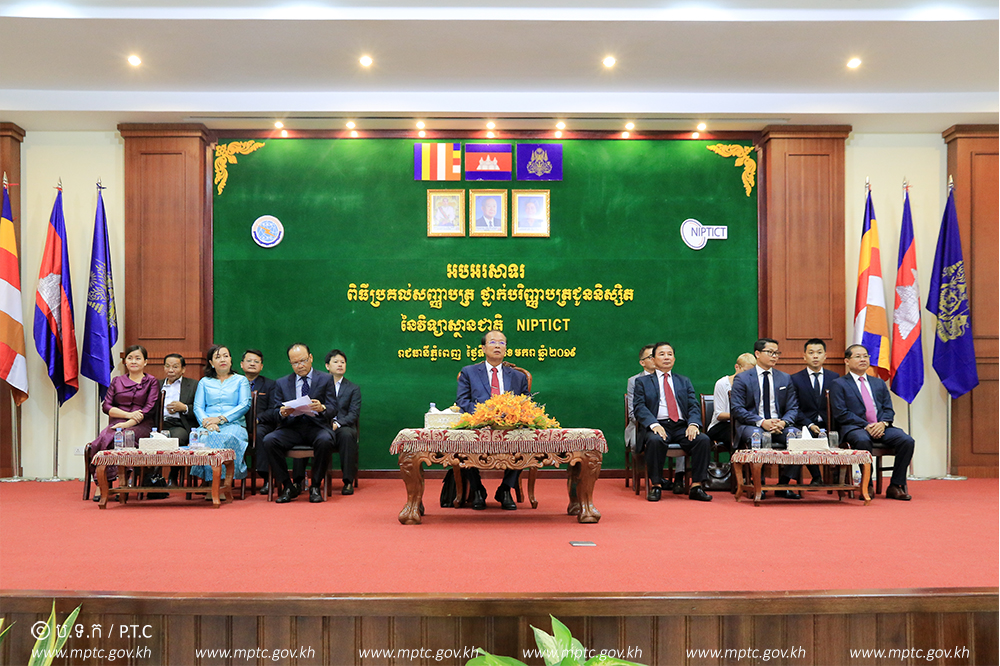 MPTC's Head Office, Thursday, January 17, 2019: H.E. Tram Iv Tek, Minister of Posts and Telecommunications (MPTC), presided over the graduation day of the first batch 48 students of National Institute of Posts, Telecoms and ICT (NIPTICT). There are 300 participants from MPTC, French and India Embassy, Telecoms and IT Companies, NIPTICT (lecturers, academic staffs and graduated students).
On the Occasion, H.E. Minister congratulates to all NIPTICT graduates and prouds that 99% of graduate get a job immediate after Internship. And the remain graduate has continued the study abroad. Some of them are working in renowned companies such as Smart Axiata, Metfone, Huawei, SEAtel, EZECOM and other national and international organizations.
H.E. Minister states that National Institute of Posts, Telecoms & ICT (NIPTICT) is a specialized research and training of MPTC who will be part of the development of the Cambodia digital economy policy as well.
Last but not least, H.E. Minister thanks to telecom operators for good cooperation with NIPTICT in training of trainer, scholarship opportunities and laboratory equipment supports. He also expressed his appreciation to the Embassy of France, the Embassy of Japan and the Embassy of India as well as development partners who have cooperated well with NIPTICT in the development of human resources and technical supports, which is a significant contributor to the Socio-economic development in Cambodia recently and in the future and encourage further cooperation.